Gippsland's number 1 choice in lopping, felling, tree & stump removal, mulch & firewood sales.
TREE & STUMP REMOVALS IN EAST GIPPSLAND
Our company's setup, equipment and machinery enable us to provide land clearing services for your development site in a safe, efficient and affordable manner.
We can remove your trees to clear the land for your new house, or your industrial or commercial development.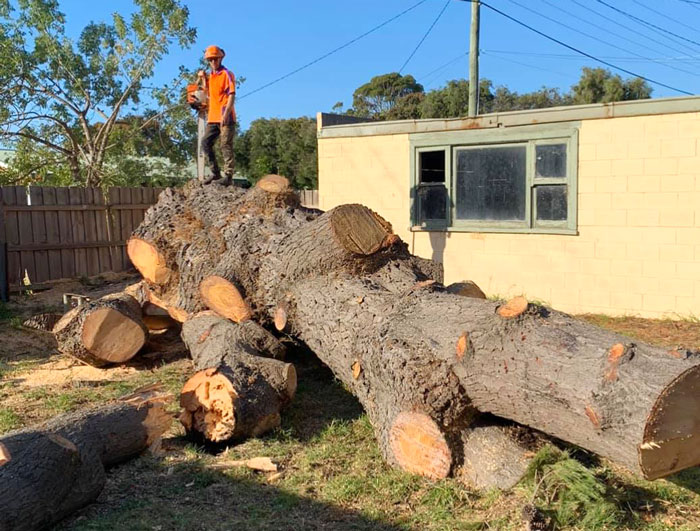 read more
Removal of tree limbs that interfere with pathways, power lines, gutters, roofs, neighbouring properties, etc
Removal of dead or weak limbs that may be hazardous, could cause injury or risk property damage
Mulching tree branches & foliage
Important advice on tree health & structure
Regular tree maintenance programs
Weight reduction
Cabling & bracing of trees & limbs
Hazardous tree assessment
Cut your own tree down, we can come and mulch it
Stumps
Complete stump removal or poisoning of stump
read more
To assist with your gardens water sustainability & vastly improve your gardens appearance

Mulching of green waste, tree branches & foliage

Mulch Sales

Our truck holds 15 cubic metres, smaller loads are available

Free delivery in local areas
read more
115 Horsepower turbo charged diesel/18 inch log capacity wood chipper
190 Horsepower diesel 12 inch log capacity wood chipper
35 Horsepower diesel 9 inch log capacity wood chipper towable by 4WD for small access jobs
Accessible to most sites
Chipper can be fed by hand, with the bobcat or excavator for large production
Wood Splitting & Firewood
read more
Need your wood split, we come to you and split it for you.
Firewood sales. Delivered firewood, dry, split and ready to burn. Assorted gum loads. Also available at times ti-tree loads and Red Gum loads.
East Gippsland Tree & Stump Removal Experts
Prompt, competitive, no obligation free quotes. 24 hour storm & emergency services. No Job too big or small. Efficient, Minimal Disruption & Satisfaction Guaranteed!
Tree Removal Services Bairnsdale & All Surrounding Areas Of East Gippsland inc. Lakes Entrance, Metung & Paynesville.